In this post, we will discuss the top MLM earners in India in 2023. We already discussed the best MLM companies in India. The following information is useful if you're looking for top networkers in India or the most popular MLM leaders in India.
In India, the network marketing industry is growing rapidly. This can be attributed to the fact that more and more people are becoming aware of the potential of this industry. Here are list of Asia's top MLM earners or Asia's top earners in network marketing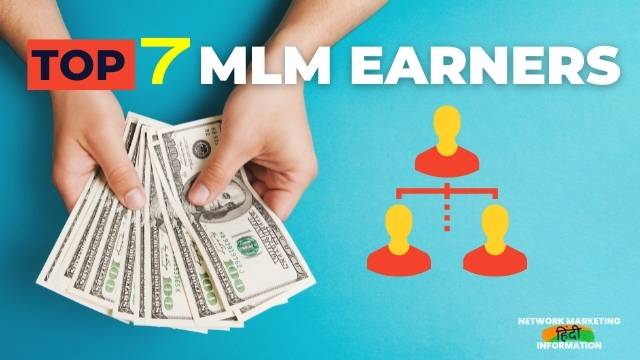 I was curious about the MLM industry and top earners in Direct Selling in India after reading an article on Forbes. After doing some research, I discovered that the industry is quite popular in India with over 30 million people involved in direct selling.
The top mlm earners in India reportedly makes over Rs 1 crore per month (approximately $140,000). That's a staggering amount of money!
Also read:- Benefits of MLM Industry
The direct selling industry offers a great opportunity for people to earn a good income. However, it is important to do your research before getting involved. There are many mlm scams out there, so you need to be careful.
But if you find a good company and work hard, you can definitely make a lot of money. We'll now look at the top earners from network marketing in India.
Top MLM Earner in India
Meet India's top 7 MLM earners who are making a fortune in the industry. From stay-at-home moms to young entrepreneurs, these men and women are raking in the big bucks by leading successful multi-level marketing teams. Here is the list of India's top 7 MLM earners who are making a fortune in the industry:
1. Sonu Sharma
Sonu Sharma is the founder of Dynamic India Group. He is also a writer, educator, business consultant, and a better and successful entrepreneur. Millions of people have benefited from his leadership as one of the youngest MLM leaders of India.
He was the crown ambassador of Naswiz Retails Private Limited Since 2005. In 2019 he was joined Vestige Marketing Pvt Ltd with his whole team. He is the Most popular MLM leader in India.
He runs an YouTube channel that has millions of followers. Sonu Sharma's videos are inspirational and inspiring. Anyone who is able to watch his videos regularly will feel motivated to pursue the MLM business Sonu Sharma is the 1 number in top 7 MLM earners in india.
2. Siddharth Singh
Siddharth Singh is one of the top MLM leaders in India. The 21-year-old who started his network marketing career with his mother in 1999.
It is true that he had tried many small businesses before becoming involved in network marketing. In the end, he got massive success in network marketing after being unsuccessful in other businesses.
At the beginning of his network marketing career, he earned 57,000 Indian rupees a month, but as his business grew, he began earning $ 3 million a month. Hard work has made Siddharth Singh famous.
In 2004, he started Vestige Network Marketing with Gautam Bali and became the highest earner in Vestige. He is the second in top 7 MLM Earners in India.
Also read:- Tips for success in MLM
3. Deepak Bajaj
Deepak Bajaj is the tired in tle list of Top 7 MLM earners in India. he is thought to be an excellent personality network marketing executive who provides a lot of motivational and inspiring videos on YouTube.
This does not only benefit individuals in the industry of network marketing. Anyone who is in enterprise of every kind get influenced by Deepak bajaj's video clips in their businesses.
He is Mr. Deepak Bajaj is not only a motivational speaker as well as a life coach and Business Trainer. He is also a Business Consultant Network Marketing Leader and a more effective network marketing trainer.
Deepak Bajaj began his career in 2011 in the MI Lifestyle Marketing Global Private Limited. Following that, he made significant progress and, having earned a variety of prestigious names, he was able to be referred to for his expertise as an MLM trainer.
So, he's widely regarded as being among the top 7 mlm earners in India. If you are a follower of Deepak Bajaj sir, and read his book. This way, you'll be in your ability to comprehend the best ways to bring prospects into your network marketing business , so that you can increase the size of your business quickly and easily.
4. Dr. Surekha Bhargawa
Dr. Surekha Bhargava considered being the best network marketing instructor who came out of Modi Care Private Limited.
After she completed her MPhil as well as Ph.D. After that, she became a member of Network Marketing Business and today she is also known for her role as MLM Guru Maa.
She was a part of Modi Care Limited in 1996 , and has been with Modi Care since. Through hard work she was able to prove herself competent in this. The public began to call her a more effective trainer.
Also read:- Best Books on Network Marketing
The Dr. Surekha Bhargava is also one of the highest earners in mlm industry. She is the 4th in the list of Top 7 MLM earners in India.
5. SP Bharill
The Mr. SP Bharill is a phenomenal motivational speaker and MLM trainers. They not only train individuals in India but also run workshops and personal development courses across different countries.
It is regarded as a highly successful entrepreneur, who has earned many brand names in the world of network marketing. If we review of his story, his life is awe-inspiring. This gives us new knowledge on how to make progress in our lives.
His name is held by many people with great respect, not only throughout India but also across different nations. This is why it is regarded as to be among the top 7 MLM earners in India.
He is also a writer. He wrote some books.
5. Mr. Harshvardhan Jain
Harshvardhan Jain is regarded as an amazing network marketing personality and trainer who inspires people and motivational speeches about MLM. MLM company since his arrival in 2000. Jain is also considered to be to be among the most successful income earners within Network Marketing in India.
The greatest thing about them is how they give their talks and stands out from the other networking marketing experts. If they are giving the speech, they make sure to not allow people to become bored. They entertain and deliver a presentation on the business of network marketing.
This makes them distinct from the other leaders in network marketing. They are loved by many people. well, and there are many books written by them that many people have read and enjoy. Harsh Vardhan Jain one of the highest earners of the top 10 of the richest people on the planet of network marketing India.Mr. Chetan Handa
6. Mr. Chetan Handa
Mr. Chetan Handa Sir is one of them in highest-earning in the field of network marketing of India. He is Mr. Chetan Handa is a excellent person and an businessman who has shown many the correct way to run an MLM business.
The Mr. Chetan Handa founded Glaze Trading India Private Limited Company in 2003. Based on the age of their founders, their expertise is mostly in the network marketing , and millions of people have followed their lead.
Chetan Handa Sir delivers an inspirational and inspiring speech to young people (who are interested in joining a network marketing) and is regarded as one among the top 7 highest-earning individuals of network marketing India.
7.Surya Sinha
Surya Sinha is well-known by the members of the industry of network marketing who have become an extremely competent person through extremely hard work. He entered the world of network marketing following the demise of the field of film.
If he did go in the field of film, he would not be successful due to an issue. He was then introduced to about the network marketing business, and slowly, they were profitable.
In the present, he is considered as one of the top 10 highest earners in Network Marketing in India. He is also an excellent trainer, writer and motivational speaker.
Conclusion
In conclusion, it is evident that there is a great opportunity for MLM earners in India. With the vast population and the growing economy, there is a lot of potential for growth in this market. The top 7 MLM earners in India have been discussed. It is clear that they have achieved a great deal of success and have made a significant impact in the industry.
They have set an example for others to follow and their achievements are to be celebrated. These individuals have achieved great success and have become an inspiration to others in the industry. They have shown that it is possible to achieve financial freedom through hard work and determination. If you are looking to start your own MLM business, take some time to learn from the successes of these individuals.